iPhone SE
A budget 4.7-inch iPhone that looks like the iPhone 8 but has the internals of the iPhone 11.
What's Next for the iPhone SE
According to Apple analyst Ming-Chi Kuo, Apple is working on an updated version of the iPhone SE that will come out in the first half of 2022, perhaps at an event set to take place in March or April. The design and specifications will be similar to the existing iPhone SE, which is a 4.7-inch device modeled after the iPhone 8, but it will include 5G and an upgraded processor, which DigiTimes believes will be the A14 chip first used in the iPhone 12 lineup. Kuo says it will be the most affordable 5G iPhone available.
Nikkei believes the next-generation iPhone SE will look similar to the current design that's based on the iPhone 8, but with an upgraded A15 chip, which arrived first in the iPhone 13, along with Qualcomm's X60 modem for 5G. DigiTimes and Nikkei disagree on the A-series chip that will be in the new device, but either the A14 or the A15 will be an upgrade.
Display analyst Ross Young has also claimed that the next-generation iPhone SE will feature a design similar to the current iPhone SE with a 4.7-inch display and 5G connectivity. Young says that the next-generation iPhone SE will be the "iPhone SE Plus," even though the display isn't going to be larger. In this case, if Apple does make that decision, the "Plus" could refer to the faster 5G connectivity.
Young too believes the next-generation iPhone SE will come out in 2022, but he says there's also another model in the works for 2023 or 2024. The upcoming iPhone SE is expected to be priced at $399.
This 2023/2024 model will apparently feature a larger 5.7-inch display and a hole-punch camera, and it's this second model that could account for much of the confusion we've heard about iPhone SE rumors. Back in 2019, for example, Apple analyst Ming-Chi Kuo said there would be an "iPhone SE Plus" with a full-screen design, no Face ID, and a Touch ID fingerprint sensor built into the power button on the side of the device, but such a device did not materialize.
Chinese site MyDrivers in October 2021 claimed that the next iPhone SE will feature an iPhone XR-like design with Touch ID built into the side button. The device will feature an LCD display, an A15 chip, and 5G connectivity, but this is not in line with rumors of a more simple design in 2022. It may be that the iPhone described by MyDrivers is the iPhone SE coming after the 2022 refresh.
We're expecting to see the next-generation iPhone SE early in the year, with current rumors indicating that it will launch in the first half of 2022 with production set to begin in January 2022. Final assembly is expected to take place in March ahead of a late April debut.
Signs of an unreleased iPhone were spotted in the Eurasian Economic Commission database in January, and the filings could represent the iPhone SE rumored to be launching this spring.
The 2020 iPhone SE
Apple in April 2020 unveiled a low-cost iPhone, the iPhone SE, which is a follow-up to the 2016 iPhone SE of the same name. Like its predecessor, the 2020 iPhone SE is Apple's most affordable iPhone, priced starting at $399.
Unlike the original iPhone SE, which resembled an iPhone 5, the 2020 iPhone SE is identical to the iPhone 8 when it comes to design. It has a 4.7-inch Retina HD LCD display with True Tone to match the ambient lighting in a room, Wide color, Dolby Vision, and HDR10.
Available in black, white and (PRODUCT)RED, the iPhone SE is built with a glass front and back with a color-matched aluminum band. Wireless charging is supported and it features IP67 water and dust resistance so it can hold up to splashes, accidental spills, and even brief submersions in water.
Because the iPhone SE is physically identical to an iPhone 8, it continues to feature thick top and bottom bezels and is the sole remaining iPhone model to do so. The top bezel houses the 7-megapixel front-facing camera and microphone while the bottom bezel includes a Touch ID Home button for fingerprint-based biometric authentication.
The iPhone SE is the only iPhone in Apple's current lineup that continues to feature Touch ID over Face ID. Like other iPhones, it uses Haptic Touch for Quick Actions and contextual menus, with 3D Touch now eliminated from the iPhone lineup.
There's a single-lens 12-megapixel rear camera in the iPhone SE with an ƒ/1.8 aperture, optical image stabilization, and support for Portrait Mode and Portrait Lighting. The iPhone SE does not have Night Mode, but there is Smart HDR, Wide color support, and more, plus an LED True Tone flash with Slow Sync capabilities.
The iPhone SE's camera can record 4K video at up to 60 frames per second with optical image stabilization and support for slow-mo video and time-lapse video. The front-facing camera supports Portrait Mode as well using the image signal processor and Neural Engine of the A13 Bionic.
Inside, the iPhone SE is equipped with newer chip technology, featuring the same A13 Bionic chip as the iPhone 11, which Apple said at the time of launch was the fastest chip in a smartphone to date. The newer A14 and A15 chips have obviously raised that bar on that, but the A13 remains a capable smartphone chip.
The A13 Bionic has a dedicated 8-core neural engine that can perform 5 trillion operations per second, two Machine Learning Accelerators on the CPU, and a Machine Learning Controller for better performance and efficiency.
When it comes to battery life, the iPhone SE lasts for 13 hours when watching videos, eight hours when streaming videos, and 40 hours when listening to audio. It is capable of fast charging and can charge to 50 percent in 30 minutes when using an 18W power adapter or higher.
There's no U1 chip inside the iPhone SE, but it does feature WiFi 6 support, which is the latest and fastest WiFi protocol, along with Bluetooth 5 and Gigabit-class LTE with 2x2 MIMO. It also has NFC with reader mode and supports Express Cards (transit cards) with a power reserve feature that allows cards to be accessible even when the battery is dead.
The iPhone SE is available in 64 and 128GB capacities. The 64GB model is priced at $399 and the 128GB model is priced at $449.
How to Buy
The iPhone SE can be purchased from Apple's retail stores, partner stores, and the online Apple Store.
AppleCare+ is available for the iPhone SE for $79 or $3.99 a month, and Apple also offers an upgraded $149 plan that adds coverage for theft and loss.
Reviews
Reviews of the iPhone SE were largely positive, with reviewers praising the device's performance, which is on par with the iPhone 11, and its affordable price point.
Though the device design is dated with its thick bezels, the display is excellent and the build quality is solid. The A13 chip ensures super-fast performance and years of software updates to come.
Battery life is good, but the iPhone SE is not as long-lasting as the iPhone 8. Camera quality is excellent for a phone that costs $399, but it's worth noting that it struggles somewhat in low light conditions. That's true of older iPhones, too. The iPhone SE is excellent in bright light, producing accurate color and vivid pictures, and there's also the bonus of Portrait Mode and Portrait Lighting.
In a nutshell, most reviewers are of the opinion that this is a significant upgrade for iPhone users who have been holding onto older devices. We've included a list of reviews below, along with some hands-on review videos. Make sure to check out our full review roundup for more.
Written Reviews
Video Reviews
Design
Though named after the 2016 iPhone SE that shared a design with the iPhone 5, the 2020 iPhone SE design is identical to the iPhone 8 from 2017. It features a 4.7-inch display with thick bezels at the top and bottom of the device.
The top bezel features a cutout for the front-facing camera, speaker, and accompanying sensors, and at the bottom of the device, there's a Touch ID Home button covered in sapphire crystal.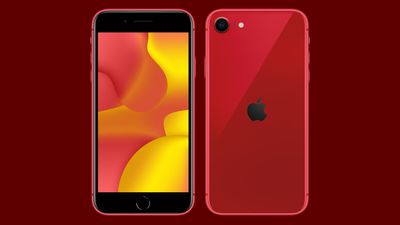 Like the iPhone 8, the iPhone SE has an all-glass body that uses a seven-layer ink process to add color to the glass, resulting in a rich depth of color. The glass display and the glass body are held together by an aluminum band that matches the color of each iPhone for a seamless look, and there are small antenna lines.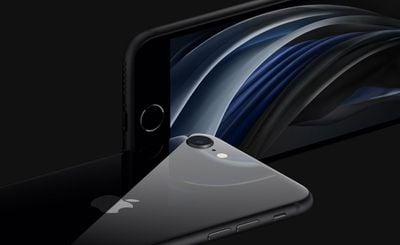 The back of the iPhone SE houses a single-lens rear camera, a microphone, and an LED flash.
On the left side of the iPhone SE, there's a mute switch and volume buttons, while the right side features the sleep/wake button. The bottom houses a Lightning port and speaker holes, and like prior iPhones, there is no headphone jack so Bluetooth or Lightning headphones are required.
The 2020 iPhone SE measures in at 138.4mm tall by 67.3mm wide, it's 7.3mm thick, and it weighs 5.22 ounces. While it has the smallest display of any current iPhone, the iPhone 12 mini and iPhone 13 mini are physically smaller. Because the iPhone SE shares a design with the iPhone 8, cases designed for the iPhone 8 work with the iPhone SE.
Color Options
The iPhone SE is available in white, space gray and a (PRODUCT)RED version that features a bright red glass-backed shell. All three colors feature black front panels, including the white, which in previous light-colored iPhones was white.
Water and Dust Resistance
The iPhone SE features an IP67 dust and water resistance rating, which means it is entirely dust proof and able to withstand one meter of water (3.3 feet) for up to 30 minutes.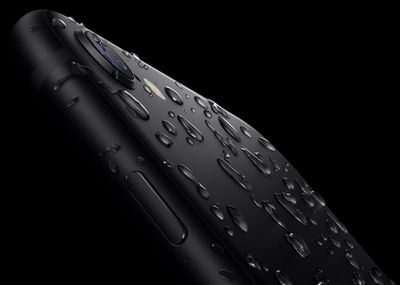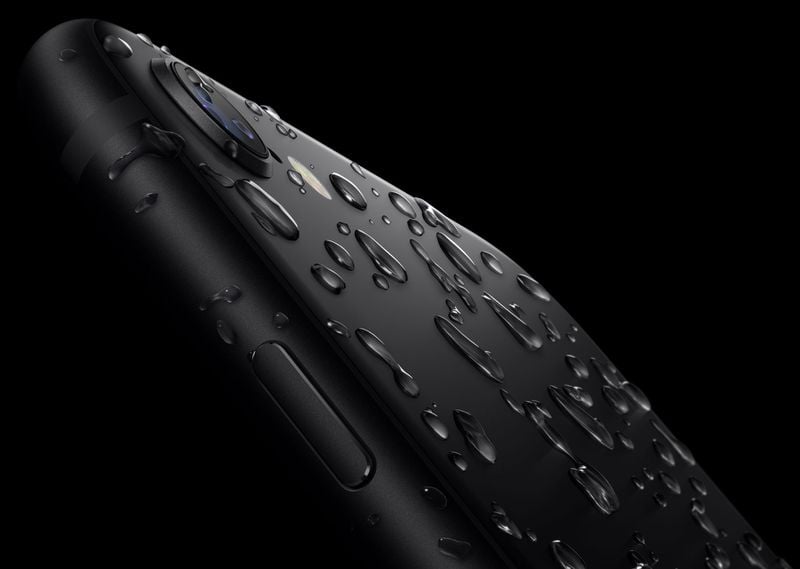 The iPhone SE holds up to splashes, rain, and brief accidental water exposure, but intentional water exposure should continue to be avoided. Apple warns that water and dust resistance are not permanent conditions and could decrease as a result of normal wear, plus Apple's warranty does not cover any kind of water damage.
Touch ID
Apple's flagship iPhones feature an all-glass design with Face ID, but to keep costs low, the iPhone SE continues to offer a Home button with a Touch ID fingerprint sensor.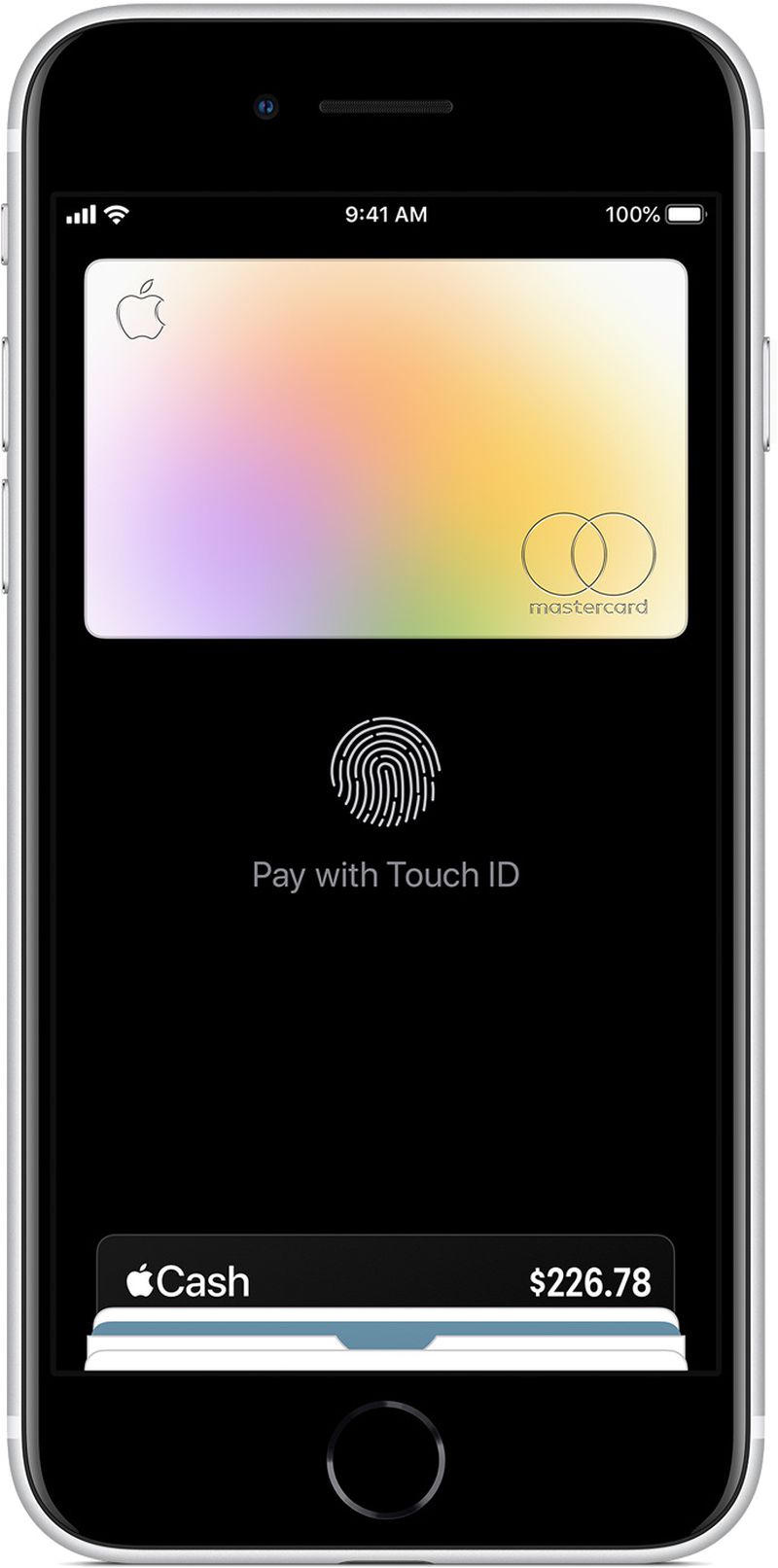 The Touch ID Home button is covered with a durable sapphire crystal that protects the Touch ID sensor and a steel ring that detects a user's fingerprint. Touch ID is used for unlocking the iPhone, filling in passwords with iCloud Keychain, confirming App Store purchases, opening passcode-protected apps, and confirming Apple Pay transactions.
Display
The iPhone SE appears to feature the same 4.7-inch display that was used in the iPhone 8 with a resolution of 1334 by 750 with 326 pixels per inch and a 1400:1 contrast ratio.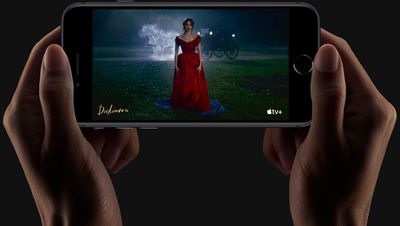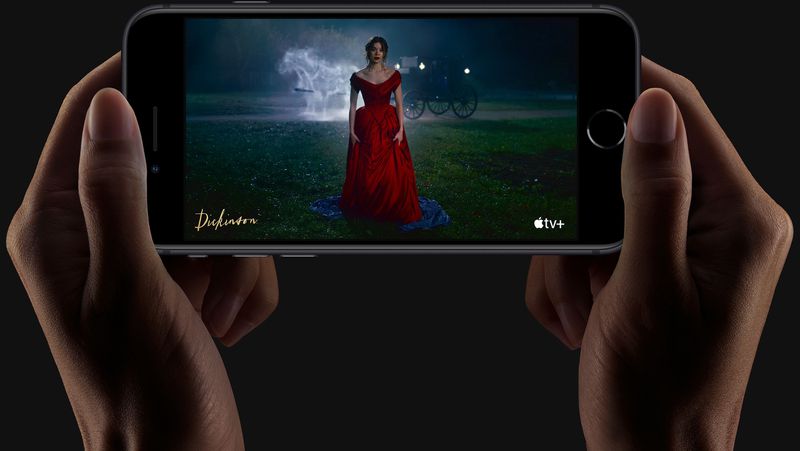 It features multi-touch capabilities, P3 wide color support for rich, true-to-life colors, and 625 nits max brightness.
True Tone
The iPhone SE supports True Tone, a feature that has been included in iPad and iPhone models for several years now.
True Tone takes advantage of the ambient light sensor to detect the lighting in a room, adjusting the color temperature and intensity to match the light for a more natural, paper-like viewing experience that cuts down on eye strain.
Haptic Touch
While the iPhone 8 supported 3D Touch, the iPhone SE offers the same Haptic Touch functionality available in more recent iPhone models.
Haptic Touch works similarly to 3D Touch and offers a lot of the same functionality, but it is not pressure-sensitive and does not support multiple functions for each press. It is instead better described as a long press or a press-and-hold gesture with haptic feedback.
Haptic Touch can be used throughout the operating system much like 3D Touch and for many of the same tasks, such as accessing Quick Actions on the Home screen, previewing links in Safari, activating the flash on the Lock screen, accessing extra features in Control Center, and more.
Though the iPhone SE supports Haptic Touch, it's worth noting that Haptic Touch does not work with notifications on the Lock screen or in the Notification Center.
Our Haptic Touch Guide has more information on the difference between Haptic Touch and 3D Touch and how Haptic Touch can be used.
A13 Bionic
The iPhone SE is equipped with the same A13 Bionic chip that's included in the iPhone 11, 11 Pro, and 11 Pro Max, and which was the fastest chip ever in a smartphone when it was first introduced in 2019. The A13 chip is much faster than the A11 that was in the iPhone 8, as well as more power-efficient, which improves battery life.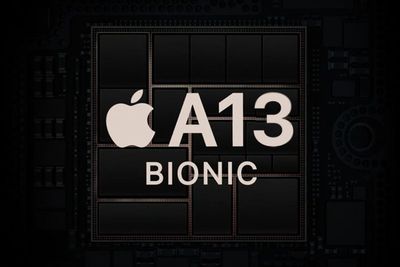 There's an 8-core Neural Engine in the A13 chip, which provides faster than ever real-time photo and video analysis. A pair of Machine Learning Accelerators allow the CPU to run up to six times faster, delivering more than 1 trillion operations per second.
The Neural Engine powers the camera system, Face ID, augmented reality apps, and more, plus there's a new Machine Learning Controller to balance performance and efficiency. According to Apple, the A13 Bionic paired with iOS 13 enables new apps that make use of machine learning and Core ML.
Storage Space
The iPhone SE is available in 64GB and 128GB storage options. The 256GB storage option has been discontinued.
RAM
Ahead of when the iPhone SE was released, rumors suggested it had 3GB RAM, and listings from a Chinese carrier have also listed the 3GB RAM number.
Cameras
To keep costs low, the iPhone SE features a single-lens rear camera, but it does adopt some technology from the iPhone 11 and 11 Pro, which means better photos than were possible with the iPhone 8.
Based on an iFixit teardown, the iPhone SE is using the same 12-megapixel rear camera sensor as the iPhone 8, but it benefits from the A13's improved image signal processor.
The 12-megapixel wide-angle camera features an ƒ/1.8 aperture with optical image stabilization, wide color capture, and next-generation Smart HDR for improved highlights and shadow details. Apple says that it is the best single-camera system ever in an iPhone.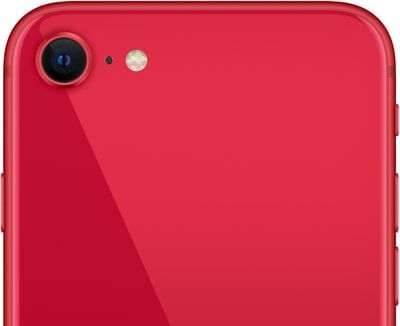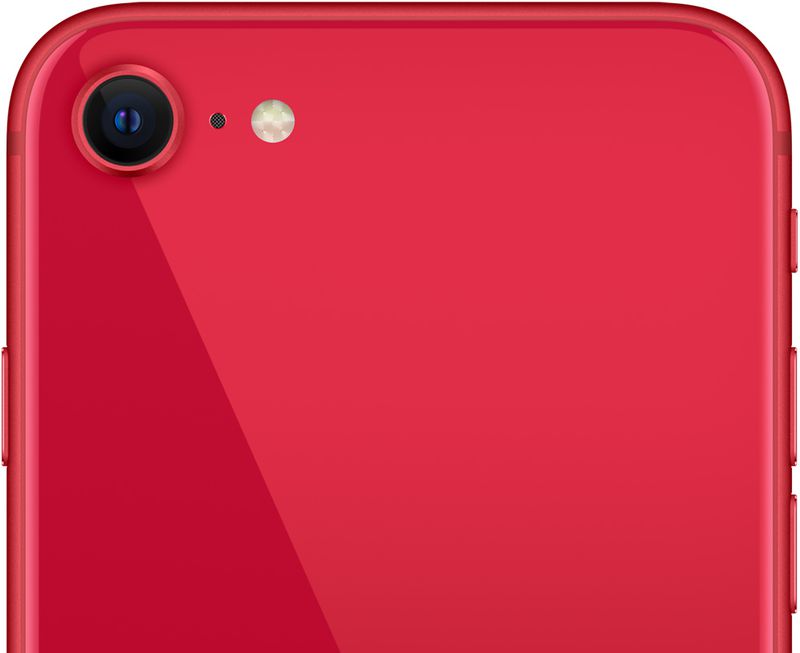 No Night Mode
The iPhone SE does not have the same capabilities as more expensive iPhones with multiple lenses, so there is no support for Night Mode or optical zoom on the iPhone SE.
Portrait Mode and Portrait Lighting
While there aren't two cameras, the iPhone SE does support Portrait Mode, Portrait Lighting, and Depth Control using the image signal processor and the Neural Engine for computational photography. The iPhone SE is the first iPhone that uses a purely software solution to enable Portrait Mode.
Portrait Mode allows for artful blurring of the background in an image when taking a portrait photo of a person, pet, or object, while Portrait Lighting allows six studio-quality lighting effects to be added to images. Depth Control allows the amount of blur in an image captured in Portrait Mode to be tuned for the best possible blend of blurring and detail.
Video Capabilities
The iPhone SE shoots 4K video at up to 60 frames per second, with 24 and 30 frames also available options alongside 1080 and 720p shooting modes.
Extended dynamic range support is available for video up to 30 frames per second, and optical image stabilization is available.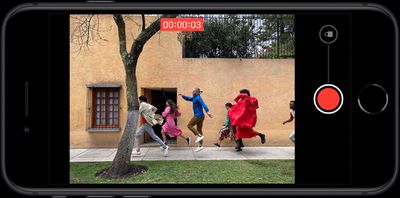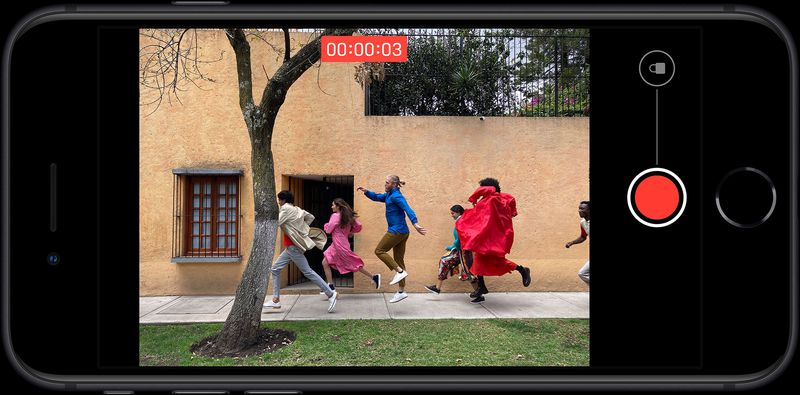 QuickTake video, a feature first introduced in Apple's 2019 flagship iPhones, is included, allowing users to capture quick videos by holding down on the camera button when in photo mode. Existing modes like slo-mo (1080p at 120 or 240 fps) and time-lapse are also available on the iPhone SE.
Front-Facing Camera
The 7-megapixel front-facing camera features an ƒ/2.2 aperture with Portrait mode and Depth Control support despite the lack of a TrueDepth camera system. To enable this feature, Apple uses machine learning and monocular depth estimation.
The front-facing camera supports QuickTake, and it was the first iPhone front-facing camera to offer the feature. 1080p HD video can be recorded at 30 frames per second, and other features include Retina Flash, auto image stabilization, Burst Mode, auto HDR, and wide color capture.
The front-facing camera is primarily used for selfies and FaceTime calls. As of iOS 14.2, FaceTime calls are streamed in 1080p over WiFi connections.
Battery Life
The iPhone SE has a 1,821 mAh battery capacity, which is the same battery capacity as the iPhone 8. Apple's own battery listings for the iPhone SE suggest the battery life is "about the same as the iPhone 8."
The iPhone SE's battery lasts for up to 13 hours of video playback, up to eight hours of streaming video playback, and up to 40 hours of audio playback.
Fast Charging
The 2020 iPhone SE supports fast charging, which means it can be charged to 50 percent battery life in just 30 minutes. Fast charging requires a USB-C power adapter that offers at least 18 watts, which includes 29/30W adapters from Apple (priced at $49).
The USB-C power adapter needed for fast charging must be purchased separately because the iPhone SE ships with only a USB-C to Lightning cable. It originally shipped with an USB-A to Lightning cable and a 5W power adapter, but Apple removed the power adapter from the box across its lineup in an environmental and cost-saving move.
Wireless Charging
The iPhone SE has a glass body with a built-in wireless charging coil to support Qi-based wireless charging. It is compatible with any 5W or 7.5W Qi-based wireless charging accessory.
Connectivity
Gigabit LTE
The iPhone SE supports Gigabit-class LTE with 2x2 MIMO and LAA, and it supports the following LTE bands: 1, 2, 3, 4, 5, 7, 8, 12, 13, 14, 17, 18, 19, 20, 25, 26, 29, 30, 66, and 71 FDD‑LTE bands and 34, 38, 39, 40, 41, 42, 46, and 48 TD‑LTE bands.
Dual-SIM Support
Dual-SIM support, which allows two phone numbers to be used at one time, is included in the iPhone SE. Dual-SIM functionality is enabled through the inclusion of one physical nano-SIM slot and an eSIM.
The eSIM feature is available in many countries around the world, and Apple has a full list of carriers that support eSIM on its website.
Bluetooth and WiFi
The iPhone SE supports Bluetooth 5.0, which offers longer range, faster speeds, larger broadcast message capacity, and better interoperability with other wireless technologies compared to Bluetooth 4.2.
It also supports WiFi 6 with 2x2 MIMO, aka 802.11ax WiFi. WiFi 6 is the latest WiFi protocol and it lets you download up to 38 percent faster than WiFi 5 (aka 802.11ac).
GPS and NFC
Support for GPS, GLONASS, Galileo, and QZSS location services is included in the iPhone SE.
NFC with reader mode is included, and there's a background tag feature that allows the iPhone models to scan NFC tags without the need to open an app first. The iPhone SE also supports Express Cards with power reserve, which means it can be used in lieu of a transit card for public transit and continues to function even if the battery is dead.